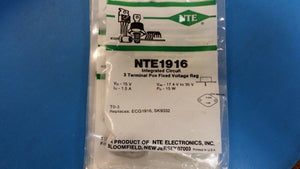 (1 PC) NTE1916, ECG1916, SK9332, 3 Terminal Postive Fixed Voltage Regulator
This listing is for 1 voltage regulator.
Description:
The NTE1916 is a positive 3–terminal voltage regulator in a TO3 type package suitable for numerous
applications requiring up to 1.5A. Current limiting is included to limit peak output current to a safe
value. Safe area protection for the output transistor is provided to limit internal power dissipation.
If internal power dissipation becomes too high for the heat sinking provided, the thermal shutdown
circuit takes over limiting die temperature.
Although designed primarily as a fixed voltage regulator, the NTE1916 can be used with external components
to obtain adjustable voltages and currents.
Features:
Output Current in Excess of 1.5A
Internal Thermal Overload Protection
100% Thermal Limit Burn–In
Output Transistor Safe Area Protection
Internal Short Circuit Current Limit
---
We Also Recommend